Have you ever had the doubt of what it meant to be a Cosmetic surgeon versus Plastic surgeon? Did you think these medical specialties were synonymous or interchangeable specialties? These questions and more about the world of cosmetic surgery can and will be answered today and every week... Welcome to Hispali Blog! We are a Mexican based company dedicated to and focused on the specialty of Cosmetic Surgery, aiming to clarify your doubts and questions.
The specialty of cosmetic surgery has long been confused or thought of as being an interchangeable name for plastic surgery, and although there may be similitude in practice, and many plastic surgeons decide to focus on cosmetic surgery, they are worlds apart.
Although both specialties focus their work on improving an individuals body, the scope of training, techniques, desires and outcomes are entirely different. In the year 1999 the American Society of Plastic and Reconstructive Surgeons issued a name change in order to strongly underline and emphasize that, "plastic and reconstructive surgeons are one and the same," the name now being, "American Society of Plastic Surgeons."
Training for plastic surgery deals with the reconstructive and dysfunctional aspects of a patients needs, these are common examples of plastic surgery procedures:
Breast reconstruction
Skin Grafting or Burn Repair surgery
Reconstruction of Lower Extremity
Hand Surgery
Cleft palate or other facial or congenital deformity repair
Among others...
As can be seen, these are based on needs, many times making the treatment a medical necessity; a word that vastly changes the ideology and core focus cosmetic surgery.
As seen in the following image, the training time required in order to be a Cosmetic Surgeon is lengthy and demanding, and focuses on precisely the areas it treats, whereas plastic surgery must be trained in 6 general areas of the specialty, and cosmetic surgery is only a fraction of what they may learn.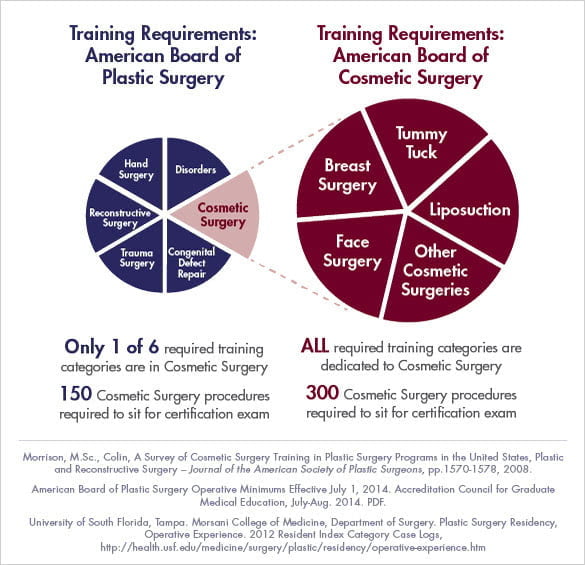 Graphic Provided By: ABCS
WHAT DOES COSMETIC SURGERY DO THAN?
Aesthetic Surgery, more commonly Cosmetic Surgery, embodies the philosophy of enhancing the appearance of the individual who seeks the treatment, emphasizing that these procedures are entirely elective, and are not geared toward anatomical function or medical necessity. Taking the aforementioned into consideration, the areas of the body that may be worked on are broad, ranging anywhere from head to toes.
Facial contouring: Cheek & Chin enhancement, Rhinoplasty
Otoplasty: Ear reduction, lobe separation
Breast Enhancement: augmentation, lift, reduction
Body Contouring: Tummy Tuck, Liposuction, Butt Lift
Facial Rejuvenation: Brow Lift, Eyelid Lift, Face lift, Hair transplant
Skin Rejuvenation: Botox, Fillers, Platelet Rich Facials, CO2 laser
All of these treatments and many more, are done to modify and bring youth and/or confidence to a patient. Enabling a person to walk with their head held high, to enjoy wearing their favorite dress, to feel confident when removing their shirt.