Considering going under the scalpel for a special date?

Well, we have all the best recommendations for important dates based on suggestions by the American Board of Cosmetic Surgery (ABCS), read ahead to find out more!

When thinking of important dates or special occasions, there is an integral part in planning for such moments. We tend to start with ideas and options of where to look, we think of dates based on seasons, attire, even our decorations… we plan ahead. The same should be done for any cosmetic procedure! Take into consideration that all cosmetic procedures require planning, and the date is of utter importance!

Recovery times are one of the most significant and integral parts in the final result of any surgical procedure, and it should be treated with delicacy. If your surgeon recommends two months of recovery or to return to work, you should take it as an absolute indication! Rushing a surgery and a recovery period are not ideal… Why? Well, unfortunately Murphys Law is a constant factor in life, and if a complication arises it may prolong the recovery period, alter the visible and aesthetic results, or simply it gives ample time for the results to be fully appreciated.

The image provided below demonstrates an average of 3 to 4 months between a procedure and the date to be ready for.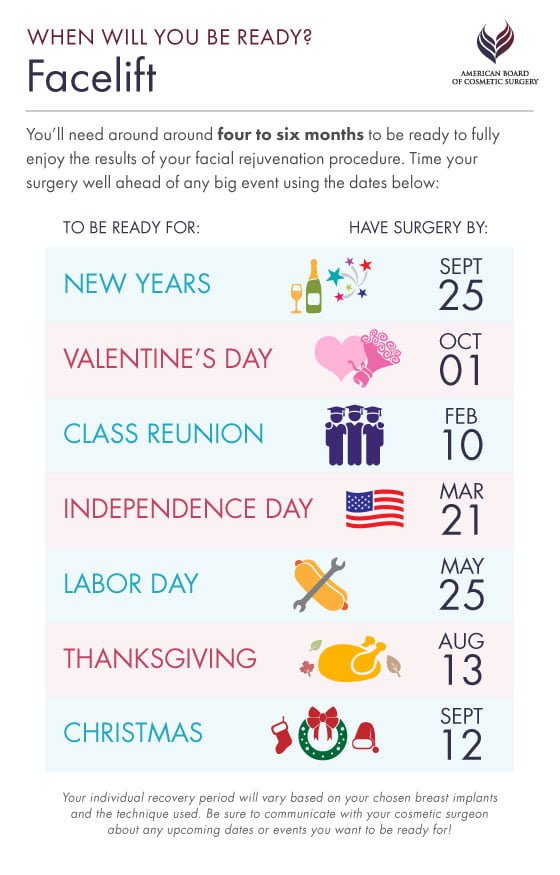 Graphic Provided By: ABCS
We hope we shed a little light on your burgeoning questions and doubts about when to undergo the knife before an important date.

We will be back with more next week, continue reading us here at Hispali blog!