The "Mommy makeover" plan is a set of procedures that aims to improve the physical appearance of the body of a woman who has gone through a process of pregnancy or excessive weight loss.
Within a Mommy makeover the following body areas are worked:
Breast
Mastopexy: It consists of removing excess skin to return the breast to its place.

Augmentation: Placement of breast implants to give a better projection and volume.

Reduction: It consists of eliminating excess skin and mammary gland.
Body Contouring
Tummy tuck: Elimination of excess abdominal skin and abdominal muscle tension.

Liposuction: It consists of contouring the body by extracting fat from different body areas.

Gluteoplasty: Lipotransference of fat to the buttocks to increase their volume and improve their shape.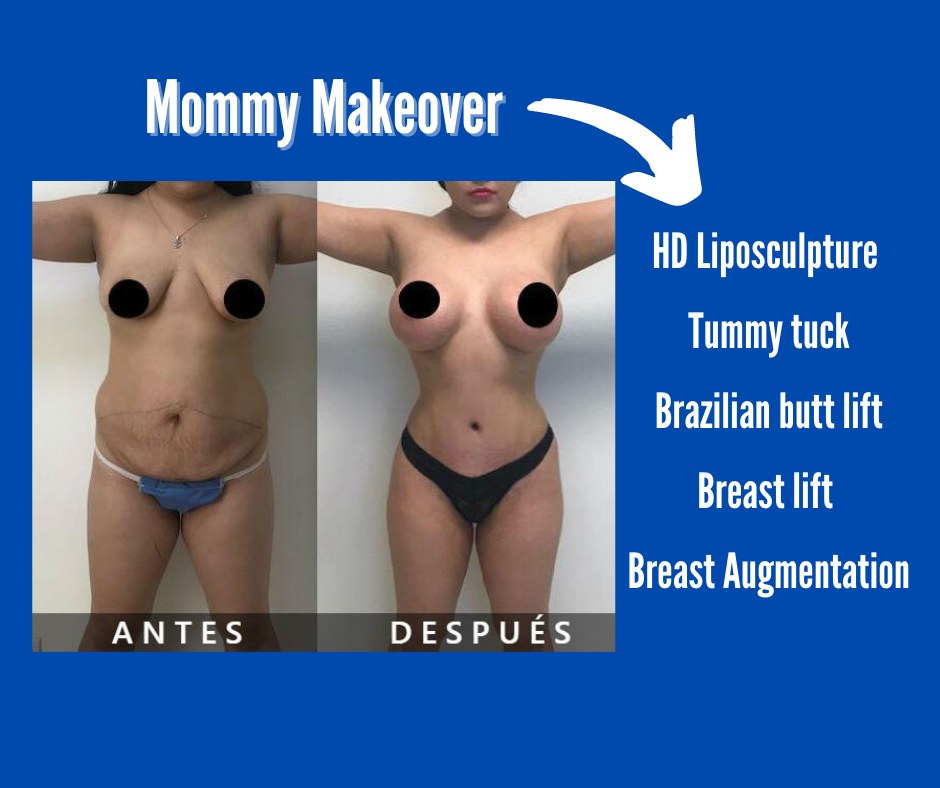 A good candidate for a Mommy makeover is a patient who is in optimal health conditions and who has already completed her maternity, if you want to plan future pregnancies, it is better to delay the procedure, in terms of patients suffering from high blood pressure or diabetes. They can undergo surgery as long as they are under the supervision of their doctor, patients who consume nicotine it is important to suspend it at least one month before the intervention, this will reduce the risk of wound healing problems.
A Mommy makeover lasts 4-5 hours, the time depends on each patient and the procedures to be performed, it is recommended that the patient spend the night in the hospital to be discharged the next day.
A recovery of 3-4 weeks is required, it is advisable to absent from work activities for approximately 2 weeks, but it also depends on the work performed by each patient, the main indications are to avoid going up and down steps, weight lifting, intense activities for at least 4-6 weeks.
When a Mommy makeover is performed on the right patient and all the indicated care is carried out, it can have a great positive emotional and physical impact on a woman's self-esteem. For more information about Mommy Makeover in the following link: Mommy Makeover